It's Possible


Seminar Presenter:
Donald Archey

Saturday, October 28 @ 2:00 p.m.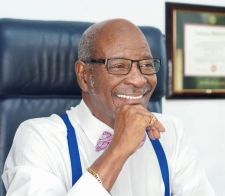 Donald E. Archey obtained his Bachelor's degree from Indiana University (IU) in Fort Wayne, IN, in 2013 and his Master's degree at Florida Atlantic University (FAU) in 2015 at the age of 54. Archey's energy and passion are contagious, and his work has been recognized with an honorary Doctoral degree in motivation from LADC Institute in 2021.
About this Seminar
A step-by-step guide to finding happiness, The Key to Unlock Happiness by Donald E. Archey is rooted in the importance of a closer walk with God. Through exploring the teachings of great thinkers like Aristotle, Socrates, and Plato, Archey illuminates how thoughts become things and the importance of goal-setting, visualization, and surrounding oneself with positive people and things.


More info about the presenter is HERE.
For more information, please contact us via e-mail at: info@nationalblackbookfestival.com
---